News
The shoutbox from hell is back...
Details

Written by

adminv15
Registered users may now use the chat feature again! Login, and click the "CHAT" link above to begin!
We will pop in every now and then.
See ya!
Welcome / Free mp3 demo
Details

Written by

adminv15
We are proud to have lauched our new and improved website!
As a registered member you will get access to loads of upcoming
features and downloads.

We start out by giving away a brand new CRASHDÏET demo recording
with the new lineup, yet to be announced!!

If you´re logged in you should see a DOWNLOAD link in the top menu of the site.


FORUM MEMBERS DO NOT HAVE TO RE-REGISTER

=)
* * * * * * * * * * * * * *
The logo contest has now ended!

and the winner is:



Henrik Falk

from Stockholm / Sweden
SEE LOGO ON TOP OF THE SITE =)



2:nd prize goes to:



Matti Westerlund

from Finland




3:rd prize goes to



Jay All

from USA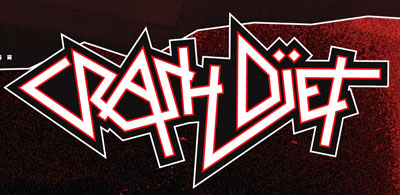 (All winners have been contacted by email)