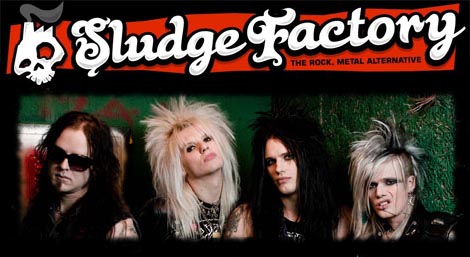 WHO SAID CRASHDIET IS BAD FOR YOU?
Vicki Grozdanovski had the privilege to catch up with the lovely Eric Young to chat about the new CRASHDÏET albumGeneration Wild and their upcoming Australian Tour in October 2011.
We started off chatting about CRASHDÏET's new album and the inspiration behind Generation Wild.  Aside from their normal influences musically, such as SKID ROW and KISS to just name a few, spiritually, their inspiration had a lot to do with front-man Simon Cruz. "We are super excited to have him on board and I like to call it the birth of Simon.  Simon contributed and added something that was lacking before," boasts Young. 
Although it didn't take too long to come up with the songs for Generation Wild, to finish the recording of the songs and the arrangements took around three months.   A lot of the bands time was spent in pre production and to be in the studio as much as only needed.  "Money is a factor and to sit and write songs in the studio would be just a waste of time.  We concentrated on sitting and writing with our producers, recording the demos how we wanted them to be and nailing them"!
When asked if CRASHDÏET is looking forward to touring down under, Young stated that they are super excited to perform in Australia. CRASHDÏET tried to get here years ago, however after a lot of to-ing and fro-ing the tour never came to fruition.  Young is really thrilled and well aware that they will be battling it out with DEF LEPPARD who is touring in Sydney at the same time.  "I hope that the fans recognise that DEF LEPPARD have done their thing and we are here to do our bit now".
I asked Young what fans can expect at their shows and he said that the "CRASHDÏET show is based on pure energy. We can't fly with too much stuff like pyros and a massive stage because we are playing the club scene, so we have limits. We make sure we put on a great set list and have fun with the audience". He assures that the Australian fans will not be disappointed.
I brought up Generation Wild, a track on the album and stated that it has the feel of, and sounds like an anthem. "We wanted to have that anthem feeling and you never know when it comes and this song came around late in the recording process.  We worked hard to get that anthem feel and made sure we got it right to sound as good as it can be and usually when playing live, this is the song where everyone is standing on their toes"!
I decided to crank things up a notch and asked Young what the craziest thing was that has happened on tour. "The craziest things usually happen when you are all liquored up and can't remember". However, he did spill the beans on an adventure they had whilst touring with Swedish band HARDCORE SUPERSTAR a few years ago. "We were like small children during the nights and this one time while we were in Italy, the tour bus stopped by a pizza place and we noticed these concrete letters in the grass outside spelling the name of the town we were in. These letters were huge, they were one and a half metres if you stood them up and weighed about 150kg.
We had this brilliant idea to steal the letter "O" and put it in the bunk of the person who was to pass out first. As we tried to get it on the bus, unfortunately our tour manager basically said there was no way that thing was coming on the bus so we had to carry it back. The funny thing though, was throughout the whole ordeal, try to imagine four guys carrying a block of concrete and yelling out, be careful, make sure you don't drop it and watch your toes!! So not rock and roll!"  There is video footage of this as well. Someone needs to find it!  Young couldn't remember too many crazy fan stories although wants to tell all of you Australian fans to show up to the concerts, have a drink with them and create some crazy stuff together.

I asked Young if he knew anything about the local acts supporting them on their Australian tour and he did say that he had heard about some of them through their promoter. CRASHDÏET has also checked out some of the Aussie supporting acts and believes they all look and sound pretty cool and trust they will have a great night.
I mentioned how CRASHDÏET has a massive following Down Under and that one of their supporting acts, VIRGINIA KILLSTYXX has a front-man named Chrisdiet.  Now, this is where our conversation gets funny.  Young thought he knew Chrisdiet and said, "Yeah, I think I know that guy, he's travelled to Sweden before, unless I'm talking about the wrong person". I respond with "yeah, no – I don't think you know him". Young whispers, "Are you sure?" This is when I assure him and say, "I doubt it". Young, then realises and say's "Oh, not the same person then.  I'm thinking of some other Australian guy who came to check us out, anyway, he was a really nice guy".  Picture a Seinfeld episode here and you will catch my drift!
For those of you who are not die-hard CRASHDÏET fans but after reading this you will be, here is some trivia for you.  CRASH-DIET is an old sickness that sailors used to get when they sailed the seven seas! Yes, news to me too. Apparently when they ran out of everyday food to stay alive, they lived off rum, which as such means going on a crash diet! "Did I just hear a baby crying? I should really start to wrap this up," I asked. "No that was my cat," says Young. Laughter!
I know some of you are dying to know how long it takes CRASHDÏET to get ready before a show. Young was proud to say that everyone in the band does their own hair and make up and if pressured, it takes them an hour.  Ideally they would like to have two hours to get ready so they can take their time for the first hour and then the next hour to go through the show. Young is the tamest out of all and though he did try the big hair and make up in the early days of the band, he said that he is sparing the fans and does not want to scare them.
Finally, to all of you crazy fans out there, you would be pleased to know that CRASHDÏET is in the process of writing their next album and hope to have it released in April 2012.
Tour dates
20 October - The Gaelic Hotel, Sydney with L.U.S.T, Sunset Riot and Antoinette La'Noir
22 October - The Espy, Melbourne with Diamond Sins, Heaven The Axe, Virginia Killstyxx and Antoinette La'Noir
Crashdïet
Riot! Entertainment