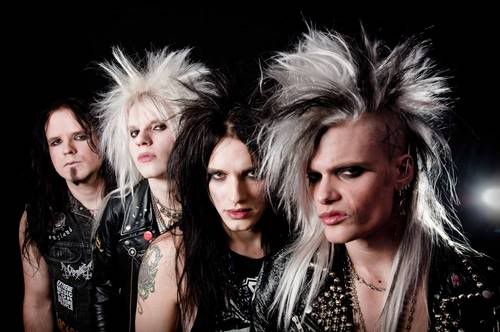 Scandinavia has produced it's fair share of melodic rock, AOR, hair metal and sleaze metal artists, keeping the good time arena ready rock and roll in full form - the latter, sleaze metal or what some of you might call hair metal or glam metal has experienced a big rebirth over the years with newer bands coming out of the woodwork, offering up original material filled with massive hooks and huge melodies that prove the party never ended.
Hailing from Stockholm, Sweden,
CrashDiet
are among many bands such as Wig Wam, Crazy Lixx, H.E.A.T., Houston, & Gotthard among others that fly the flag on their own term, bringing a familiar vibe to the table, but with a modern edge. at the end of a decade that not only shunned this type of music, but also glamorized depressing realities tailor made for 'Generation X,'
CrashDiet
was born, and with a deal from Universal music in the beginning, it seemed like this band would go on to conquer the world. But then horrible tragedy struck the band.
In early 2006, vocalist Dave Lepard committed suicide, an extreme shock to the band as Lepard was hiding depression from both friends and family - something like this, you never really get over, but you can move forward, and
CrashDiet
did just that, hiring H. Olliver Twisted, but his ensure would not last, as he would go on to front Reckless Love, another modern sleaze metal band. In 2009,
Simon Cruz
would replace Twisted and finally, the long awaited release of
Generation Wild
is hitting the racks. Out of tragedy, the band has seen many great fortunes, including opening for Ozzy, playing large festivals to tens of thousands of people, and have even had a music video banned from MTV, which has more of positive impact seeing how it heightens curiosity. Both vocalist
Simon Cruz
& guitarist
Martin Sweet
give insight to the new record and what keeps this band going.
Tommy Hash: How do you feel 'Generation Wild' turned out seeing how it's the first album ou have done since Dave's passing?
Martin Sweet: I think that with the new record, we went back to the original sound of CrashDiet, as the guys found their roots again, we all came in and made our contribution, it came out good.
TH: You guys had a video banned from MTV, usually something like that is actually good for a band.
Simon Cruz: it doesn't matter if they play it on MTV because MTV sucks - (the thoughts about what might happen) all of that came about when had the ideas of making the video and when we filmed the video, we just went for it, we didn't suspect that it was going to be banned.
MS: it's sort of a good thing in a way because we got a lot of nice press in the papers, so it turned out to be good promotion. Maybe we should do a fucked up song so radio will play it.
TH: The lyrics are reflective of a more down to earth feel, what is it that inspires them?
MS: We took most of the lyrics just experiences we had in Stockholm, just doing different things in our lives and some characters in the songs were fictional, but based upon people that we have met.
TH: Martin, how is it that you personally approach a guitar solo
MS: I always like short and melodic solos, I have always been into memorable solos by Slash and Mick Mars, not a lot of show off, I used the same approach n this album.
TH: And then you have the new renaissance and rebirth of the sleaze metal scene, what is your experience with the audience reception?
MS: With great success, especially in places like Italy and Germany, the audience has been amazing as well.
SC: it's starting happen The UK as well, we have been there quite a few times now, so things are happening there now, South America.
TH: Tell me about the SWU Festival in Brazil and opening up for Ozzy.
MS: I think I had the biggest adrenaline kick in my life when I went on stage in Brazil, with fifty thousand people there and you raise your hands and everybody claps along with you. - a big fucking crazy party
SC: I have always been a huge fan of Ozzy, so hat is something to put in my book
TH: Are there any tour plans at the moment?
MS: We have had some plans, we have spoken to various managers, Simon: we have to really plan it carefully if we are going to come over it we have to do it the right way. And we want to come to the states, so it's going to be a big bang when we finally come over. We will be making the most of it.
Before Frontiers Records, you had a major label deal with Universal Music, what was it like being signed to a big label doing this type of music?
SC: When we were singed to Universal, It just fell into place for us at the time. We are currently signed to an independent label in Sweden called Gain Records who are owned by Sony, and we are distributed through Frontiers worldwide. We have nothing to compare it to, we loved it - but after a few setbacks, change of singers, we didn't feel the same vibe as in the beginning, they faired a lot of people there were some and there were hardly anybody left at the label hat cared about us.
TH: You guys also have a DVD in the works.
MS: we were going to start to edit it this summer, but now all these tours that have come up, we are going to Australia, maybe back to the UK and a lot of other stuff, so we might wait until those tours are over so that we can collect everything from the generation wild area. We filmed quite a lot.
SC: Oh it's a lot of stuff, it's going to be fun and it's going to be a great DVD, so it's going to take some time to complete.
MS: We began filming the day Simon stepped into the studio with us for the first time, when he tried out for the band, so we have everything form then until now, so it's going to be massive.
TH: Simon, The band had their eyes on choosing you to step up as the new frontman, what as it like for you to step into the band?
SC: We talked a little bit after Dave passed away, there really wasn't anything happening then because I had another band. But later on I was in a different situation and heard that they kicked out Ollie. So we had met up, started hanging out and writing music together and it ended up astonishingly well, so it came together.
TH: What Else do you guys have planned?
MS: We had planned for another video but we are waiting on funding for it, the basic idea is there. We are going to be working on a new album soon, war Simon: we are starting writing songs, in writing mode.
Copyright & Publishing 2011:
Tommy Hash
for Ytsejam.com