Google Play :
play.google.com/store/apps/details?id=com.tapatalk.crashdietorg
App Store :
itunes.apple.com/us/app/crashdiet-forum/id1078483209?mt=8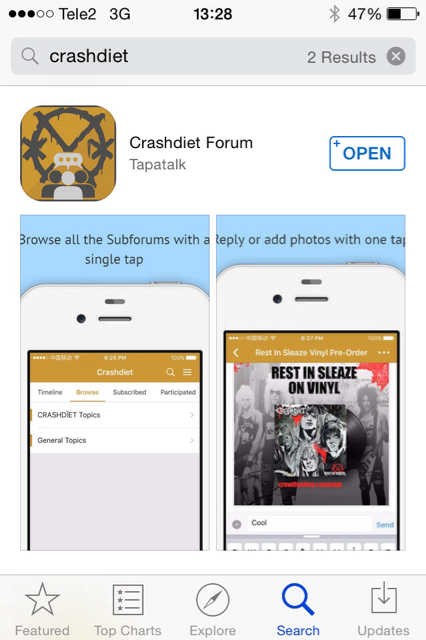 Make sure you go to settings and enable night-reading mode, this way you'll get a color scheme that makes sense

.
I'm using the app now and it's pretty nice IMO but let me know what you think!
EDIT : Ok I'll start haha

.
I like this app in general. It's clean, fairly responsive (I can probably speed it up by optimizing some server settings) and has only crashed once for me today hehe. The only worrying part is that it's built by Tapatalk and they have decided to give ZERO support for my particular setup (Joomla CMS + Kunena forum) which is sad but understandable in a business perspective... Their plugin has not been updated in almost a year and god knows what's gonna happen once I update Joomla and Kunena to recent versions. Or even worse, when my server is updating to PHP 7 which most likely must happen sooner or later...
We'll see. Either way this is definitely the best option for now. It's also quite impressive that PM's work so smoothly. It seems to have a problem with dates in "list-view" (All dates are January 1970) but apart from that all is good as far as I've noticed...
Oh and I'm not sure if Push notifications are working at all, I'll have to investigate this further...