Thread like this might be all ready existing, but I couldn't find one, so starting a new one.

So the idea of this thread is to tell about your memories which are related to Crashdiet songs.
I have a bit weir way of linking songs with memories, (I think I have all ready told about it at some point), so don't take my examples as examples. Write the type of memories you have.

Anything goes.
Here is just a few examples (I'm writing between doing various household chores, so I don't really have that much time.):
It's A Miracle:
Every time I hear this song, I remember how I woke up in the middle of the night in our old house. It's really dark, and I'm all alone, because my husband hasn't gotten back from work, and I feel really sad and alone.
In The Raw:
This song reminds me of the day when I was in an underground CD shop with my husband when I was pregnant with my first son.
Die Another Day:
The memory going with this song goes like this. It's winter time, and I'm driving our car using this short cut which goes between rice fields. It's all ready sunset, my husband and my older son, who at the time was just a baby, are sleeping in the back seat. The air is all golden and you can see the shadow of Mt. Fuji in the horizon - which looks like it's on fire, because the wind is blowing the snow on top of it - while the sun is setting behind it. I have a picture of Mt. Fuji, taken from our balcony, in which the mountain looks bretty much the same as in my memory. Lets see if I can attach it to this post.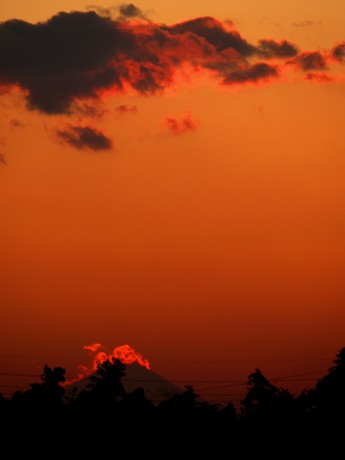 I have other memories too, but will leave them for later day...